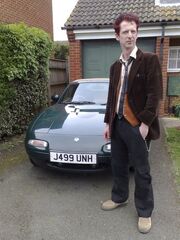 Big Doctor Who fan, also Blake's 7, BSG, Sapphire and Steel, True Blood, Game of Thrones, Buffy - the usual suspects. Oh, and both UK and US versions of Being Human of course.
Outside of cult TV, I follow politics and have a keen interest in classic cars.
I also spent ten years working in music retail, and recently embarked on an attempt to document all the songs used in the original broadcasts of Being Human UK. This is because I know the DVD release of series 1 at least has most of them substituted for clearance reasons, so I'm keen to compare broadcast to DVD release for the later series. Still working on that!
My favorite pages
Edit
http://incoherent.net/ - My blog. Mostly TV reviews, some episode by episode, with the occasional bit of political comment.