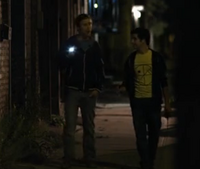 After
Aidan
has organised a neighborhood meeting, the neighbors start to organise a neighborhood watch. They want to fight a sprayer and make sure that they keep their neighborhood safe. Aidan has the idea that they should go on partrol together in teams.
April
organises the teams.
Josh
takes part even though he doesn't want it. At the first night,
Aidan
doesn't come to the neighborhood watch, so
Jesse
takes over for him however nothing happens. A night later, Josh smells the spreyer with his werewolf sense of smell. He catches the spreyer. The police takes care of it.
Participants
Ad blocker interference detected!
Wikia is a free-to-use site that makes money from advertising. We have a modified experience for viewers using ad blockers

Wikia is not accessible if you've made further modifications. Remove the custom ad blocker rule(s) and the page will load as expected.