Nicholas Finn
Talk

4
382pages on
this wiki
Nicholas "Nick" Finn
Biographical information
Born

ca 1980s

Killed By

Zoe (2nd time)

Cause of Death

Drowning (1st time)

Hit with a bat in the head (2nd time)

Alias

Nick (nickname)

Physical description
Species
Gender

Male

Hair colour

Brown

Eye colour

Blue

Skin colour

Caucasian

Family information
Affiliation
Occupation

College TA (ended by his death)

.
Nick Finn was a school friend of Sally and a very trustworthy ghost. He appeared in 5 episodes.
He suffered from "Death Echos", causing him to relive his death by drowning every day. He was brought back to life by Josh in season 3. His girlfriend is Zoe.
In Your Body Is a Condemned Wonderland, he starts to lure stray cats into his home and eat them, which he discovers reverses the process of rot that his undead body is going through.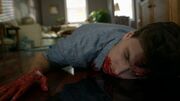 In For Those About to Rot, he is killed by Zoe when she strikes him in the head in self-defence after he attacks her in hunger. Reappearing as a ghost, Nick tells Zoe about his and Sally's decomposition and warns her to stay away from Sally. A door appears and he goes through.