Leader
Biographical information
Born

Unknown

Died

2013

Physical description
Species
Gender

Male

Hair colour

Brown

Eye colour

white

Television Portrayal
Appearance
Sticks and Rope
Actor
Martin Hancock
.
Like his name says Leader is the leader of the group of Demons (The Men with Sticks and Rope) that come to earth to bring Alex to purgatory. He obeys the orders of the devil. Leader asked Oliver Fitzwilliam Pryor to help him to get Alex to purgatory. He told Oliver to make friends with Alex. Then they wanted to act like they bring Oliver to hell. They hoped that Alex would want to trade his place, as Oliver reminds her of her younger brother Decky. However Oliver reveals what they are up to. He manages to get through his door together with his little brother Albert. After they have gone through their door they close it. Without the door to purgatory Leader loses his demonic appearence, he becomes more human. However he can't live on earth without a open door to purgatory. He fades away. His last words before he vanishes are "You're too late. The end has begun. Night will fall. And he will... rise!"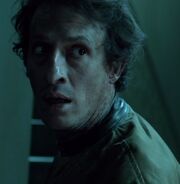 Ad blocker interference detected!
Wikia is a free-to-use site that makes money from advertising. We have a modified experience for viewers using ad blockers

Wikia is not accessible if you've made further modifications. Remove the custom ad blocker rule(s) and the page will load as expected.