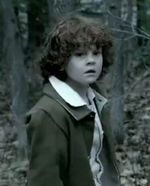 Isaac Waite
is the son of
Aidan
and
Suzanna Waite
. Isaac was born sometime in the late 1700's in the Boston area. When his mother was turned into a vampire, she unintentionally killed him in a fit of thirst and bloodlust. Suzanna was horrified when she realized it was her son she killed, and demanded Bishop turn him. But when Bishop refused saying he couldn't force a child into damnation, Suzanna wanted Bishop to kill her instead. He again declined, telling Suzanna that she didn't get another chance at life once this one ended. Afterwards, it is assumed she buried the body of her dead son. For centuries after his death, his mother would committ self-flagellation feeling immensely guilty over what she did.
Aidan, fearful and full of guilt over his son's fate, never looked for Isaac after Suzanna's supposed execution.
He was portrayed by child actor Kyle Harrison Breitkopf.