George Sands Snr


Gender
Male
Species
Human


"Why couldn't she have just moved over? That piece of wood she was on was massive."
―George Snr. on Titanic
George Sands, Senior
(James Fleet) is
George
's father. When growing up, George regarded his father as a boring but decent father, with no problems such as gambling or alcoholism to detract from his role as a father, but he lost touch with his son after George was turned into a werewolf. His relationship with his wife subsequently became increasingly distant, to the point that she began to have an affair with
George's old P.E. teacher
. When
Annie
saw a notice in the paper about George Snr.'s death, George went home to attend the funeral, but saw what he believed was his father's 'ghost' at the funeral.
Learning that his father had apparently died in a fire in his shed, George told him about the Door to try and help him understand why he might still be staying around. However, when George and Nina found George Snr. eating crisps in his camper van, he revealed that he and a friend of his in the police had found the shed burnt to the ground with an unidentified, apparently homeless man inside it, George faking his death to try and get a new start, going along with the 'ghost' story to spend time with his son. George and Nina were able to convince him to assert himself to regain his wife, George Snr. subsequently punching his wife's lover after he insulted George and George Snr. George Snr. and his wife subsequently took the camper van on a trip to Cornwall to regain the spark in their marriage.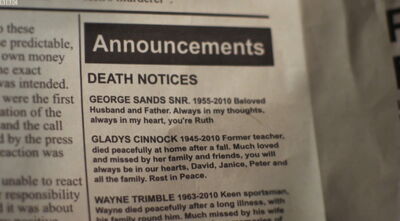 Ad blocker interference detected!
Wikia is a free-to-use site that makes money from advertising. We have a modified experience for viewers using ad blockers

Wikia is not accessible if you've made further modifications. Remove the custom ad blocker rule(s) and the page will load as expected.