Emrys
Biographical information
Born

1940's

Died

2012

Killed By
Cause of Death

Pushed over a wall

Passed over

2012

Physical description
Species

Ghost (formerly human)

Gender

Male

Hair colour

Grey

Skin colour

Caucasian

Family information
Family members
Television Portrayal
Appearance
Puppy Love
Actor
Anthony O'Donnell
.
"She hasn't aged well. Dodged a bullet there, I think."
―Emrys, to Annie about Lesley
Emrys is a neighbour who Annie accidentally kills in Puppy Love, after mistaking him for an Old One. She helps him pass on by scaring his ex-wife, Lesley, and her current husband, Gwyn. He is portrayed by Anthony O'Donnell.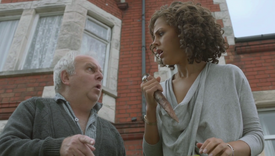 Ad blocker interference detected!
Wikia is a free-to-use site that makes money from advertising. We have a modified experience for viewers using ad blockers

Wikia is not accessible if you've made further modifications. Remove the custom ad blocker rule(s) and the page will load as expected.