The Clifton Suspension Bridge opened in 1864. It goes accross the Avon Gorge river and is often used as a symbol for Bristol. In the Pilot George wakes up at the Clifton Suspension Bridge after a fullmoon night. He is completely nacked and sleeps infront of the body of a deer. He later steals the clothes from a washing line and calls Mitchell.
Address:
Bridge Rd
Bristol BS8 3PA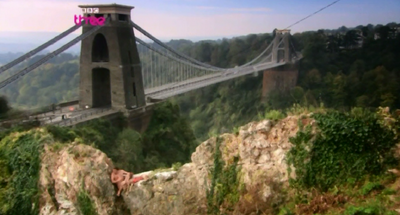 Ad blocker interference detected!
Wikia is a free-to-use site that makes money from advertising. We have a modified experience for viewers using ad blockers

Wikia is not accessible if you've made further modifications. Remove the custom ad blocker rule(s) and the page will load as expected.