Being Human: Chasers

Bibliographical Information
Author
Mark Michalowski
Publisher
BBC Books (9. März 2010)
ISBN
9781471305252 (audio download), 9781471305283 (audio Cd)
Length
256 pages
Language
English
Chasers
is the
second Being Human novel
. Since the plot continues through all three novels, the books
The Road
should be read before Chasers and
Bad Blood
should be read after Chasers.
George's friend, Kaz, arrives at the flat with a staggering request: she and her partner Gail want to have a child, and they'd like George to be the father. George is warming to the idea - he's always wanted kids, and he can be as involved in the baby's life as he wishes - but he is wary: what if his condition is genetic?

Mitchell and Annie don't approve of the new plan, but Mitchell is wrestling with a difficult decision of his own. A patient at the hospital, Leo, is surprisingly good company for a pasty older bloke who believes the 1980s were a golden age. But he seems a little too interested in Mitchell's history - and he has a surprising request of his own in store for his new friend...
Audiobook
Edit
The Audiobook is read by Russell Tovey (George Sands)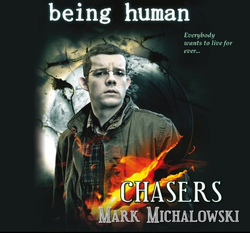 Ad blocker interference detected!
Wikia is a free-to-use site that makes money from advertising. We have a modified experience for viewers using ad blockers

Wikia is not accessible if you've made further modifications. Remove the custom ad blocker rule(s) and the page will load as expected.