Home
Talk

32
488pages on
this wiki
featured character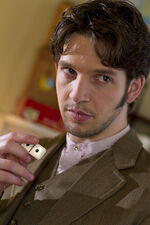 Henry or Harry Yorke is an English vampire who first appears in Series 4. He is better known by the shortened version of his name "Hal". He is over 500 years old and is considered among vampires to be an Old One. Many other vampires - including some of the Old Ones - are very scared of him. However, in 1955 he met a werewolf called Leo and a ghost called Pearl who helped him to renounce blood. This caused him to be dismissed by Mr. Snow, as it was his carnal bloodlust that seemed to be the reason he rose so high in the vampire ranks and was feared so much in the first place. Read more...
latest episodes
Final UK Episode: The Last Broadcast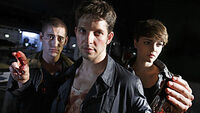 Episode 5.06–In the final episode of Being Human, Hal, Tom and Alex do battle with the Devil in order to save the world, but at what price to their own humanity?
Latest US Episode: Ruh Roh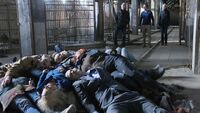 Episode 3.13–
In the season three finale of Being Human, The roommates face off with Liam, Aidan discovers that something terrible has happened to Kenny, Donna settles the score with Sally, and Nora gets a surprise when Josh transforms again.
---
being human trivia: did you know...
---
polling booth
---
live newsfeed
Loading RSS data...
---
user blogs
Create blog post
Hello everyone,

I just thought a new navigation menu would be great. One which does not only include the characters, cast and episodes but everything else: locations, genaral information about the sho…

Read more >

Can someone add the ritual and verbal spell used to bring Sally back via the Sav?

Read more >
See more >