Being Human: Bad Blood

Bibliographical Information
Author
James Goss
Publisher
BBC Books (9. März 2010)
ISBN
9781471305290(audio download), 9781471305306 (audio cd)
Length
256 pages
Language
English
Bad Blood
is the
third
Being Human novel
. Since the plot continues through all three novels, the books
The Road
and
Chasers
, should be read before Bad Blood.
One of Annie's oldest friends has come looking for her - and what's more amazing is that she's found her. Denise is the ultimate party girl, and she's determined to bring Annie out of her shell. Mitchell is delighted, but George really thinks the last thing they need to do is to go out and meet new people.
Annie and Denise throw themselves into organising a Bingo night at the local sports hall - after all, it's for charity, and what's not to love about having a good time? But why is Denise back in town? Why have Bristol's vampires suddenly started hanging around wherever they go? And why does George get the feeling that Bingo night is going to go horribly, horribly wrong?
Audiobook
Edit
Bad Blood is read by Lucy Gaskell (Sam Danson)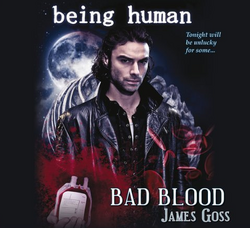 Ad blocker interference detected!
Wikia is a free-to-use site that makes money from advertising. We have a modified experience for viewers using ad blockers

Wikia is not accessible if you've made further modifications. Remove the custom ad blocker rule(s) and the page will load as expected.