Atlee
Talk

0
382pages on
this wiki
Atlee
Biographical information
Born

10th Century

Infected

10th Century

Killed By
Cause of Death

Drank tainted virus blood

Physical description
Species
Gender

Male

Skin colour

Caucasian

Family information
Affiliation
Occupation

Member of the Dutch Council

Infector

Heggeman (Probably)

.
Atlee was one of the few remaining living members of The Dutch. Atlee is portrayed by actor Kyle Gatehouse.
Most of the Dutch were slaughtered by Bishop in his attempts to create a vampire master race. Atlee, however, was not present at the slaughter. He is one of the Dutch who accompanies Heggeman on the trip to Boston when Suren is reinstated. He becomes suspicious when Heggeman mysteriously disappears after being tasked by an unknown, to him, task by Mother. He returns to Boston to question Aidan on Heggeman's disappearance, and gets tied up in Josh's lie to Cecilia that the McLean twins are responsible for Heggeman's death. After taking Atlee to hunt the twins, their plans are reversed when Josh, Nora, Connor, and Brynn all change and Atlee retreats, leaving Aidan to save Cecilia. Aidan later gives Atlee the corpse of Connor and tells him to take it back to the other members of The Dutch and never return to Boston. Aidan later confronts Atlee and blackmails him so he and Suren can remain in hiding, to which Atlee reluctantly agrees.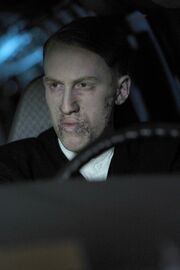 After rescuing Aidan from Mickey, Atlee believes that Aidan's blood is pure and will serve as a cure for the virus that is affecting the vampires. After a failed attempted to escape, Aidan is bitten and nearly drained by Atlee but with no success. He finally succumbs to the virus and turns to dust mid sentence.
Personality
Edit
Despite being one of the Dutch who are powerful elders, Atlee is a cowardly and self-serving vampire who puts himself first. In one instance, he flees rather than fight the werewolves he believes killed Heggeman, however, since one Werewolf managed to kill Heggeman with little effort then his fear is justified. During The Virus outbreak, he attempted to drain Aidan rather than share him with the other Dutch.
Abilities
Edit
Vampires possess a number of powers that make them deadly creatures. Most, if not all of the following abilities work better if the vampire has drunk human blood from a living source- if they are cut off from it a long period of time, they become weak and unable to use their power. Furthermore the older a vampire is, the stronger his/her powers are.
Abilities common to vampires include:
Strength: Vampires are usually much stronger than a human. Although vampires do get stronger with age, younger vampires seem to have enough strength to stand up to their elders such as the time when Aidan after drinking live; fought and defeated Bishop
Speed: Vampires are incredibly fast, but unlike what other media have recently shown not all vampires can become a blur at high speed until they are at least over a few centuries old, Aidan for example is quite fast but is visibly seen clearly when he uses his speed. Older vampires can become so fast that they will eventually blur, or in the case of ancients, can appear as if they are teleporting.
Augmented Healing: Vampires can take a lot of punishment and will heal quite quickly, but not instantly as shown when Aidan still had a round mark after being impaled. The healing speed and effectiveness is improved if the vampire feeds on living blood from a human. Henry, for example, needed to feed from two humans to regrow his skin.
Compulsion: The ability to influence a human's mind is called "compelling", and while it is an ability that comes naturally with vampirism, it is very difficult to use. It seems that compulsion does not work on werewolves, ghosts and other vampires.
Endurance: Vampires have far more endurance and stamina than humans. They can run, fight and exert themselves much more and for longer than any human, though they can still get fatigued and even knocked out.
Immortality: Vampires will never age another day after they are turned and will live forever unless they are killed in specific ways (see Weaknesses).
Clairvoyance: As supernatural beings, Vampires can see and hear ghosts. They can also sense werewolves, who give off a distinct, dog-like stench that can only be detected by vampires and other werewolves.