Arthur


Gender
Male
Species
Human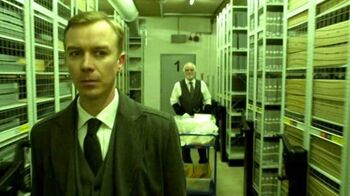 Arthur
is an archivist for the
Men in Grey
, a mysterious organisation that helps cover up any supernatural happenings around the world
He appears to be a kind, elderly man.
He was seen being greeted by Mr. Rook with a cart full of deliveries and it is seen on his checklist that he has kept track of many of our heroes' endeavours across the years.
Mr. Rook came to him with a new file and Arthur offered to take it off his hands. Mr. Rook said he wouldn't dream of it and added the file to a compartment himself.
Ad blocker interference detected!
Wikia is a free-to-use site that makes money from advertising. We have a modified experience for viewers using ad blockers

Wikia is not accessible if you've made further modifications. Remove the custom ad blocker rule(s) and the page will load as expected.