Adam Jacobs
Talk

1
382pages on
this wiki
Adam Jacobs
Biographical information
Born

1964

Infected

1980

Physical description
Species
Gender

Male

Hair colour

Black

Eye colour

Brown

Skin colour

Caucasian

Family information
Family members
Affiliation
Occupation

Student

Infector

Unknown vampire

.
"If you started making out with me it would look like you were grinding the invisible man."
―To Christa

Adam Jacobs is an eternally teenage vampire who befriends George and Nina when he's feeding at the hospital his father is hospitalised in.
Biography
Edit
Early LifeEdit
Adam was born in 1964. When he was 16 in 1980, he fought an unknown vampire that ended in him being turned into a vampire. His parents kept him fed for years until his mother died and his father ended up in hospital.
He stays with George and Nina much to the disapproval of Mitchell, who believes the presence of another vampire might be bad for him.
Eventually he is taken in by a vampire couple with a swinger lifestyle which he finds appalling and decides to go back with George and Nina. Mitchell gives him some money to start over somewhere, Adam concluding that he had to move on and find his own life in order to stop himself being a burden on George and Nina like he was on his parents.
He eventually finds himself back in school where he befriends a
werewolf
named
Christa
and a
ghost
named
Matt
. During this time, Adam worked with Matt and Christa to investigate Matt's murder -despite the current tension developing between them due to Matt's feelings for Christa and Christa and Adam developing some degree of feelings for each other, also contacting George for advice on how to handle Christ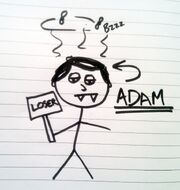 a's condition.
The murderer was subsequently revealed to be Matt's old teacher, Mr Rowe, who had become enraged at the irreverent way he was treated by his students, Adam almost attacking him before Christa talked him down. Rowe was subsequently thrown through Matt's door when he tried to attack Adam and Christa to protect his secret.
Adam returns to Honolulu Heights in Series 4. He is on the run from the press, who have found out that he is in a relationship with Yvonne, the Headmistress of a girls' school. Once at the house he explains to her that he is a vampire, but at that point Hal discovers that Yvonne is a succubus - a creature who subconciously causes men to fall in love with her whenever they touch her.
Adam is taken out of the house by Annie, and he is horrified at what he has done. However, he eventually realises that he does love Yvonne, and returns to the house to fall under her spell once more. The two of them leave the next day, to continue their lives together.
It is unknown if a second series of Becoming Human will be created.